It's Sky Show week, so you know what that means: San Diego State will play in front of its largest home crowd of the season on Saturday. Well, for about half an hour they will. Here's a quick preview.
Game time: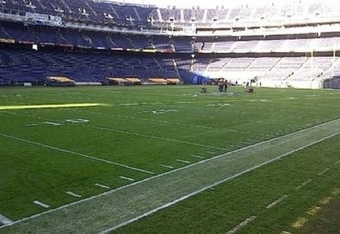 Halftime:
Two minutes to go:
Lemme tell you, those last two minutes are going to be hell on Hawaii's snap count.
If you've been going to SDSU games the last several years, you already know what to expect. But just in case any Sky Show fairweathers stumble across this blog in the next couple of days, I wanted to provide them with some answers to frequently asked questions just in case any of them wander in from the parking lot before 8 p.m.
So in honor of another proud SDSU creation, I present Aztecs Football for Fireworks Loving-Cretins Dummies.
Not seeing the action? That's probably because your eyes are trained on the sky, silly. Look down. No further down, that's the Plaza Level. No, too far. That's your shoes. Look at the green thing! With the people running on it! Nevermind.
If you think that quarterback looks familiar, you are correct. Not only is Ryan Katz a fantastic dual threat quarterback, he also plays Gyp Rosetti on the HBO series Boardwalk Empire.
I have no idea what spear they're talking about or why you're supposed to fear it. I'm just as confused as you.
Seriously? Did you really just ask me if the "Padres" are about to "kick a home run?" Don't even talk to me anymore. Get the fuck out of here and watch the Sky Show from the parking lot. I hate you.
No, no, I assure you that Aztec fans are not booing Rocky Long. They're saying Loooooo-ong. Honestly.
No, pressuring and hitting the quarterback is not illegal in college football, but I can see why you might get that impression.
Damn it — get off your iPhone! There's a game going on! Actually, before you do can you tell me the score of the Giants game? THX.
Yes that defensive scheme is quite unusual — very astute of you to notice. It's called the 3-3-5. Why? I think because when you multiply 3 x 3 x 5, you get the average number of points it allows.
No, I'm sorry, Zuma is no longer the mascot. Wait, don't leave! Where are you going?