A primer containing everything you need to know for tomorrow's SDSU football game:
Opponent: Fresno State Bulldogs
Kickoff: 5 p.m.
All-time series: Aztecs lead 26-20-4

Last meeting: Fresno State failed to kill Tom Ables in 2002
Why Fresno State could win: Led by quarterback Derek Carr and running back Robbie Rouse, the Bulldogs can move the ball and rack up points. Carr, as you may know, is the brother of former Fresno State and Houston Texans quarterback David Carr. Which kind of makes me wish we could find a relative of Dan McGwire to play quarterback for SDSU so this would be an epic showdown of NFL draft bust kin.

Why SDSU should win: Motivation should be a clear edge. The Aztecs damn well know their chances of a bowl game are a lot better if they can reach eight wins. Fresno State players, meanwhile, are probably less focused on this game than on their offseason plans to defraud the social safety net.

Matchup to watch: Ryan Lindley vs. accuracy. Seeing as this game could be a shootout, it would sure be swell if Good Ryan Lindley would show up for Senior Night, rather than Throw-an-Awful-Interception-on-My-First-Pass-of-the-Game Ryan Lindley. I won't miss the second Ryan Lindley nearly as much as the first one.

Reason you should hate Fresno State: Even as a kid passing through town on the way to my grandma's house, I always thought Fresno looked — to use the local parlance — hella depressing. This makes their students and alumni suspect in my book. I mean, there are CSU campuses in big cities, near the beach, amongst the redwoods, even in the clouds. And these people chose to spend five years of their lives in Fresno?

Reason you should hate the Bulldogs: So these guys are our rivals, apparently? Wasn't aware of it until Letsdosomewaving's piece earlier this week. Guess I'm too much of a youngster to understand, seeing as I'm only, uh, 30. Wait … there's a rusted ass oil can at stake? GRRRRRR I HATE THE BULLDOGS SO MUCH!!!!

Most annoying alum (football division): USC head coach Lane Kiffin.
People who have been around him for a while seem to reach certain … conclusions about the man. I'll let Tennessee fans explain in their subtle, classy way:
Most annoying alum (non-football division): Renegade basketball coach Jerry Tarkanian

I can tell you with full certainty that when Jerry Tarkanian was a player at Fresno State, he never once shared a hot tub with a known game fixer. This is because hot tubs would not be invented for another 60 years.

If the Bulldogs were a fictional villain they would be: Oddjob from Goldfinger.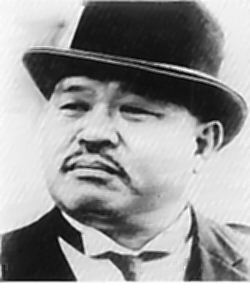 He's a formidable foe, and — this season notwithstanding — Fresno usually is too. Plus, like Fresno's fanbase, Oddjob gets an edge by hurling projectiles (razor-tipped bowler hat, sandwich bag full of excrement—same thing). One key difference: Oddjob's mustache is way's less disgusting than Pat Hill's.
Prediction: Aztecs 37, Fresno State 27. Hopefully the New Orleans Bowl will be hella impressed.